100's 2-Ply Royal Oxford Dress Shirt with Wide Spread Collar in Blue (Tailored Fit) by Gitman Brothers
The Perfect Blue Shirt.
Offering an elevated alternative to our classic Oxford cloth, royal Oxford is crafted from an elaborate basket weave that gives the fabric a soft and luxurious finish. Finished with our widespread collar, barrel cuff, and mother of pearl buttons. The lightly textured surface creates a bright and lustrous blue, making it the perfect option for refined business attire.
Widespread collar, a contemporary style with a broader spread to emphasize a tie.
Barrel cuff, a classic style with a rounded edge and single button fastening.
100% cotton.
Tailored fit: What's old is new again - Gitman's tailored fit is very close to the original Gitman Bros. shirt from 1978. It's not a slim or a trim fit, just a contemporaty and clean silhouette.
With roots tracing back to the 1930s, the Gitman name is synonymous with a rich heritage of American manufacturing. Today, we are one of the few remaining shirt makers with all our production still based in the USA. Our methods have evolved with the times but the trademark aspects of our business remain. We are committed to delivering the highest quality products that uphold our dedication to craftsmanship and dependability.
At Gitman, we see value in the long lineage of inherited knowledge that is passed down through generations of workers. Our shirts and ties are made by skilled artisans who bring all their history and experience to each individual garment we make. We've seen more than our share of trends, and may have even started a few ourselves, but firmly believe that quality and comfort will always be the hallmarks of true style.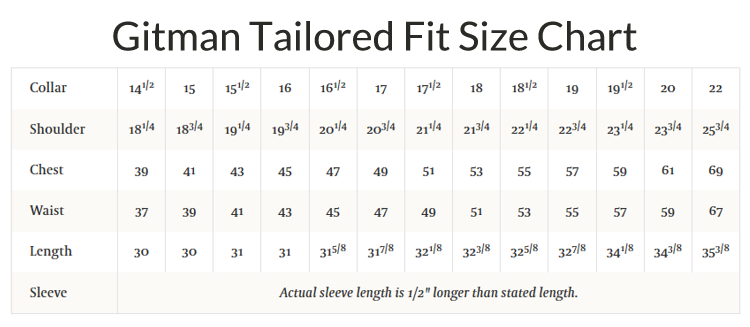 Bulk Discounts:
Below are the available bulk discount rates for each individual item when you purchase a certain amount